Black Rock Desert in Northern Nevada is like a different planet. The giant salt flat, or Playa, has always fascinated me and when I'm there, I can't help but pretend I'm on Mars. Its a perfect place to get away from the hustle and bustle of the real world. It's a place that makes you feel so isolated, you forget all your problems and obligations, and just exists in the moment. And sometimes when I go camping, I want that type of quiet. That's why Black Rock Desert has been a regular camping spot for us and we always look forward to returning.
Black Rock Desert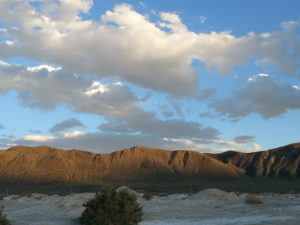 Black Rock Desert, which is part of the Black Rock Desert-High Rock Canyon Emigrant Trails National Conservation Area, is generally associated as the salt bed flat, or Playa. But this area is much larger and encompasses the mountain ranges, lava beds, hot springs, and other wilderness areas, spanning 300,000 acres through three different counties.
Black Rock Desert is BLM Land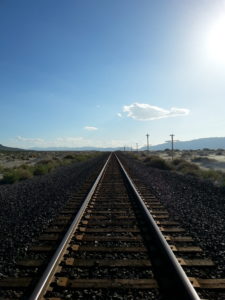 Black Rock Desert is part of the National Conservation Area, which is a unit of the Bureau of Land Management (BLM). If you're not familiar with this magical acronym 'BLM', it essentially means it's public land and your allowed to camp wherever, whenever, for free. Primitive and dispersed camping don't require any permits and camping is generally limited to 14 consecutive days.
One of the few times you can't camp wherever you want at Black Rock Desert is when special events secure areas with permits. Every year these events happen, including the the popular Burning Man festival. This festival last 9 days and attracts over 60,000 people. And though it only occupies about 3% of available camping on the Playa during the Burning Man Festival, to avoid traffic and camping restrictions, plan ahead and avoid camping during these scheduled events.
Black Rock Desert Location
For a place that makes you feel so removed, Black Rock Desert is relatively close to the real world. Reno, Nevada is only 100 miles south west and about a 3 1/2 hour drive past Lake Tahoe.
When we visit Black Rock Desert, we drive Interstate 80 and head north on Highway 447. While there are other access points along Interstate 80, this route is the most direct for us.
Once you pass Pyramid Lake, you enter a stretch of BLM land before passing through Empire and Gerlach. These are the last small towns before you really start getting into the boondocks, so Gas up here if needed. Gerlach is the larger of the two towns, with a population of 200. There aren't any grocery stores in these small mining towns but there are a couple places to get some water, eat a hot meal, and there's even a small motel.
Camping at Black Rock Dessert
Black Rock Desert is a beautiful place to camp but it can be a difficult. It has very few trees, very little water, and very strong winds. Planning ahead when camping here is advised. Make sure you bring enough drinking water, wind protection, a way to get some shade from the sun.
Camping on Black Rock Desert Playa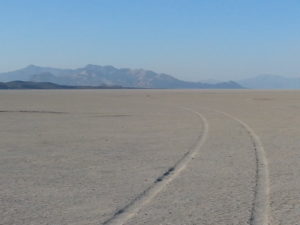 There are a lot of different areas with different terrains, the Playa being the most popular. Pitching a tent and camping in the middle of the giant salt flat is one of the most unique places you'll ever camp but it does have it's disadvantages. Exposure, winds, and sand storms are very real hazards and not uncommon. Having a solid structure to take shelter in is going to make camping here a more enjoyable experience. We recommend RV camping over car camping on the Playa, or have a comfortable setup in your vehicle to wait out storms.
Tent Camping at Black Rock Desert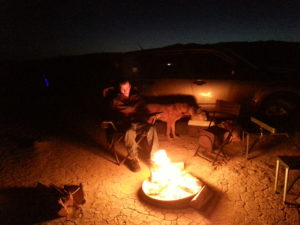 There are great camping areas surrounding the Playa. We've camped in a few other spots in the lower mountains outside of the Playa, in the dunes past the Playa, and on some dirt roads south of Gerlach. All these areas where very nice and peaceful, and make for better tent camping; you'll find protection from the wind and sturdier ground for tent stakes. We recommend checking out spots along the lower mountains, west of the Playa and surrounding areas when tent camping.
Climates and Hazards at Black Rock Desert
Black Rock Desert sits at almost 4,000 feet in elevation with dry summer months reaching highs of 90's and lows of 60's and wetter winter months with highs in the 40's and lows in the 20's (F). It has very few trees, very little water, and gets very strong winds. Most of the hazards that are in this area are weather related.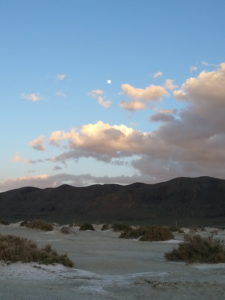 Ironically for such a dry place, one of biggest hazards can be the rain. The surface of the Playa becomes a very sticky, heavy, clay when it gets wet, making it impossible to drive on even with four wheel drive. It is absolutely not recommended to drive on the Playa when it's wet or if it has been raining. In the winter months, it's not uncommon to see a couple of abandoned vehicles stuck in the mud on the salt flat.
The winds are also a major hazard and can be very strong all year round. During the summer months when the Playa dries up, the winds create dust devils that can pass quickly. And during stronger winds, sand storms develop that can be so bad it completely eliminates visibility and hurts any exposed skin.
Another concern you should have while camping in Black Rock Desert is exposure. With very few trees, sun exposure is inevitable. Planning ahead for shade is a recommended.
Camping Gear Recommendation

Packing in all your drinking water is necessary for areas like Black Rock Desert. When we're camping and need to bring sufficient amounts of water, we use the Aqua-Tainer 7 gallon water container. These are very durable, BPA free, and have a convenient bib for filling up smaller water bottles.