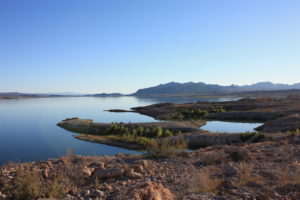 Just a short drive from Las Vegas Nevada is the giant reservoir known as Lake Mead. Part of the Lake Mead National Recreation Area, Lake Mead offers many year round outdoor activities. Stewards Point is one of the designated camping areas located on the north west shore of Lake Mead and offers remote dispersed camping in a large, open, scenic environment.
In November of 2015, we camped a few nights at Stewarts Point during a road trip through southern Utah and northern Arizona. We started our road trip in Las Vegas, where we rented a 19 foot RV, and spent a week traveling through the South West, checking out Zion National Park, Bryce Canyon National Park, Lake Powell, and the North Rim of the Grand Canyon. Since Lake Mead is located so close to Vegas, we camped our first night and our last two nights at Stewarts Point.
Camping at Lake Mead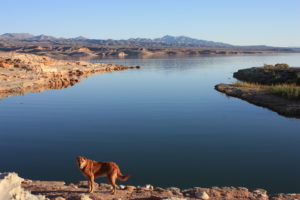 Deep in the desert along the Nevada and Arizona border sits the engineering marvel known as the Hoover Dam. Stationed along the Colorado River, the Hoover Dam retains water and forms the massive reservoir of Lake Mead. One of the largest reservoirs by volume in America when full, Lake Mead spans 759 miles of shoreline and holds over 26 million acre feet of water. Though this reservoir hasn't been full in couple decades because of the drought conditions in the west coast, Lake Mead still offers year round recreation opportunities, including boating and other water sports, fishing, and camping.
Camping Fees for Lake Mead
Lake Mead National Recreation Area charges a fee of $20 for per day for entrance or camping. Kiosks to pay fees are stationed along the entrances to the Lake Mead National Recreation Area. If your camping a couple night or planning to visit other National Parks, we recommend investing in an annual park pass. These passes are available online or at the kiosks for $80 for one-year to all National Parks, or $40 for one-year to Lake Mead. For more information about fees to Lake Mead and annual park passes, visit the Lake Mead Fees and Passes website.
Stewarts Point at Lake Mead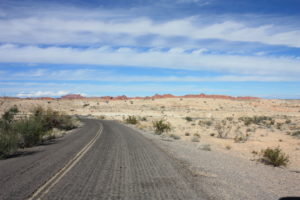 Approximately 60 miles east of Las Vegas and about 20 miles south of the Moapa Valley, Stewarts Point is located on the north west tip of Lake Mead off highway NV-167. This section of highway is also known as the Northshore Road. Depending on the direction your traveling, you can access highway NV-167 from Interstate 15 via the highway NV-169, or from highway NV-147, or highway NV-564. From NV-167, look for signage for Stewarts Point, which is located just north of Echo Bay and just south of the Valley of Fire State Park entrance.
Follow the signs and turn off NV-167 and head east down Stewarts Point Road. This road starts paved but turns into a sandy dirt unpaved road. Continue straight down the road and you'll start seeing smaller homes and signage about camping. You've arrived at Stewarts Point at the bottom of the road.
Camping Spots at Stewarts Point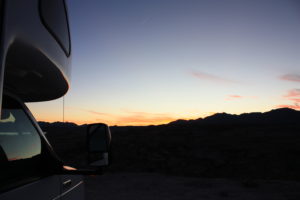 Stewarts Point is a large area with a lot of great camping spot opportunities. Dispersed camping is allowed so there aren't assigned camping spots. You can start camping past the vault toilets at the bottom of Stewarts Point road or following the network of paths along the shoreline to find great camping spots. We camped three nights at Stewarts Point and each night we camped at a different spot, and each camping spot was more scenic than the last. To find great camping spots, we recommend taking some time and exploring the area.
Camping Amenities at Stewarts Point
Stewards Point is one of the least developed camping areas at Lake Mead. There are no onsite facilities, except for two vault toilets located at the bottom of Stewarts Point road. Plan ahead when camping at Stewarts Point for limited amenities when camping and make sure to bring enough water.
Climate and Terrain at Stewarts Point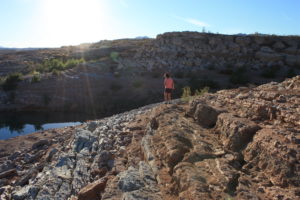 Stewarts Point at Lake Mead has mild, dry temperatures in the winter months and hot, dry summer months. Low of 30's F can be expected during winter and highs can exceed 110 F during the summer. The terrain at Stewarts Point is open and exposed. Rocky areas with flat sandy soil sections and desert brush are spread around, with views vibrant colored mountain ranges in the distance.
The shoreline of the lake can also very drastically depending on the water level of the reservoir. When we visited Lake Mead, the water level was very low which uncovered the steep hillsides of the canyon leading into the water. This exposed more layers than are typically showing.
Camping Hazards at Stewarts Point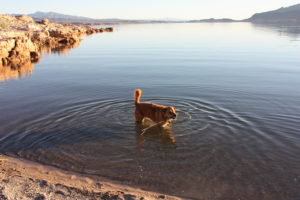 There are a couple hazards to be aware of when camping at Lake Mead. The winds can become very strong and it's not uncommon to get gusts of 90+ mph. You want to avoid being on the lake when the winds pick up. Also, make sure your tents are staked down well and gear is secured during windy days.
Another hazard to be aware of when camping at Stewarts Point is the sun exposure. With very little shade from trees or mountains and typical sunny skies, the sun hangs directly over you most of the day. Especially during the hot summer months, plan ahead to have a cool shaded area to escape the sun when needed. And always, make sure to drink enough water and stay hydrated.
Camping Gear Recommendation

Packing in all your drinking water is necessary when camping at Stewarts Point. We highly recommend using the Aqua-Tainer 7 gallon water container. These are very durable, BPA free, and have a convenient bib for easy fill-up.